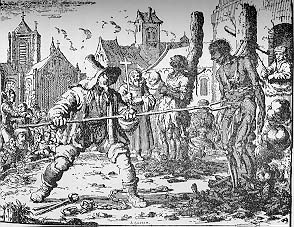 Anabaptism is unique among all ecclesial frames for reference derived from the Reformation in many ways, one of which involves its Catholic roots and specifically Benedictine roots. Unlike Luther the Augustinian, Calvin the lawyer, or Zwingli the Christian humanist, the Anabaptist tradition arose largely in the soil of the Benedictine tradition. This is seen most clearly in the influence of Michael Sattler over the Radical Reformation. The earliest Anabaptist confession, The Schletheim Confession, is widely accepted as deriving directly from the thought of Sattler, and its fundamental affirmations are clearly Benedictine in origination.
Herein lies the fundamental difference between Anabaptism the other major offspring of the Reformation, especially Lutheranism. Luther's theology was shaped in a thoroughgoing manner by his rejection of human action and ecclesial practices as coterminous with divine action and merit. As such Luther vehemently rejected monastic profession and the Christian taking of vows. Anabaptism, by contrast never rejected the more "catholic" emphases in ecclesiology, even including the church's ability to participate in divine action through the power of the keys in pronouncing absolution. Likewise Anabaptism did not reject the monastic (and particularly Benedictine) notion of intentional community, vows, and embodied life together.
The key point of disctinction between the Radical Reformation and its Benedictine roots came in regard to the issue of ecclesiology. For Sattler and the Anabaptist tradition as a whole, the monastic practices that originate in the Benedictine tradition are not intended simply for a monastic class within the church, but rather for all members of the church without exception. For the Anabaptists there is no salvation outside of the perfection of Christ. The "counsels of perfection" are not for a monastic caste, but rather for all believers. This is the center of the Anabaptist theology of discipleship, not a rejection of monastic practices and a catholic vision of the importance of the church as a locus of divine action, but a univeralizing and intentional ecclesializing of the monastic vision.